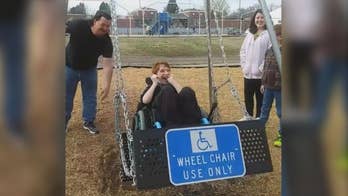 A boy in a wheelchair is filled with joy after having the chance to play for the first time on the swings at a neighborhood park.
According to a report on ABC 13, the Creekmore Park in Fort Smith, Ark. installed a swing made for kids in wheelchairs.
The 10-year old's screams of delight have gone viral on a Facebook video shared by his mother, Trish Allen.
"So glad to have this in our community," she wrote. "It's been such a joy for us to see how Seth's laughter has reached out in ways his voice cannot."
According to reports, Seth suffers from several ailments stemming from a stroke he had as an infant.